A menu has been provided that allows an administrator to sign on to user applications, to assist with application debugging. You may want to grant the authority to use this function to supervisors in order to allow them to assist their application programmers with any problems that may arise. This function is particularly useful if you have individuals who are working at remote sites and require assistance with an application.
To access this function enter T on the command line of the Administrator menu (see Figure 32). This option was displayed in releases prior to Version 6. To make it visible on the Administrator menu, you have to change the DISPLAY INDICATOR to Y (for yes). See tablesONLINE/CICS and VTS for details.
The system displays the User Applications Select menu, as shown in Figure 59.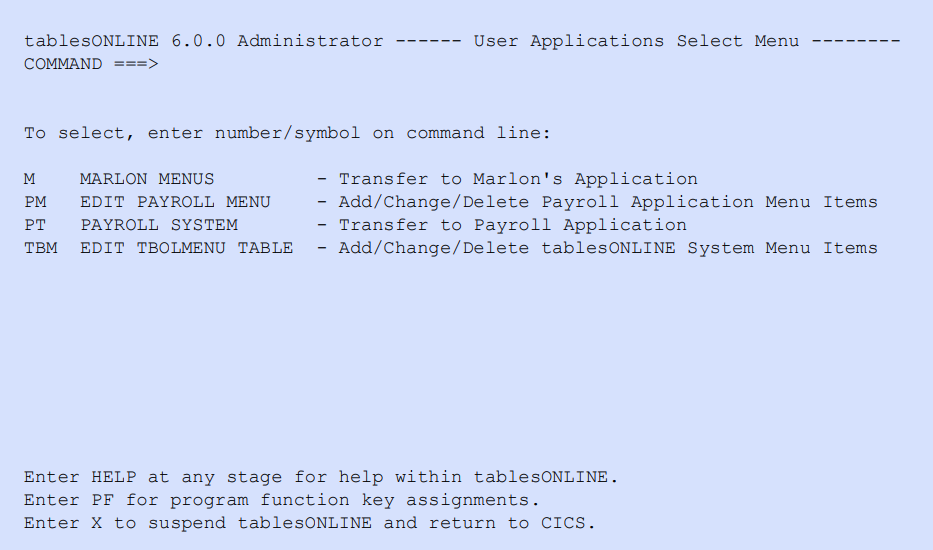 The entries that are displayed in this menu are examples of menu entries that transfer control to other sessions. Specific entries for your organization can be created by editing the TBOLMENU or XXXXMENU table as described in the chapter "Building Applications" of the tablesONLINE/CICS User's Guide. The entries that make up this menu are identified in the Menu table by the USERCNTL screen name.
Selecting an item from this screen brings up the application as the developer would see it, allowing the administrator or supervisor to examine it.