It is possible to customize the assignment of PF keys for any tablesONLINE application. This is done by editing the PF Key table. To edit this table, select Option 2 – EDIT PFKS TABLE from the Application Developer's menu and press <Enter>. This action displays a screen (an
Identify Table
screen) where you may insert a specific PFK identifier. Pressing <Enter> will bring up the
Edit-Row
screen. If this field is left blank,
The Application's PF Keys
screen is displayed (see
Figure 164
).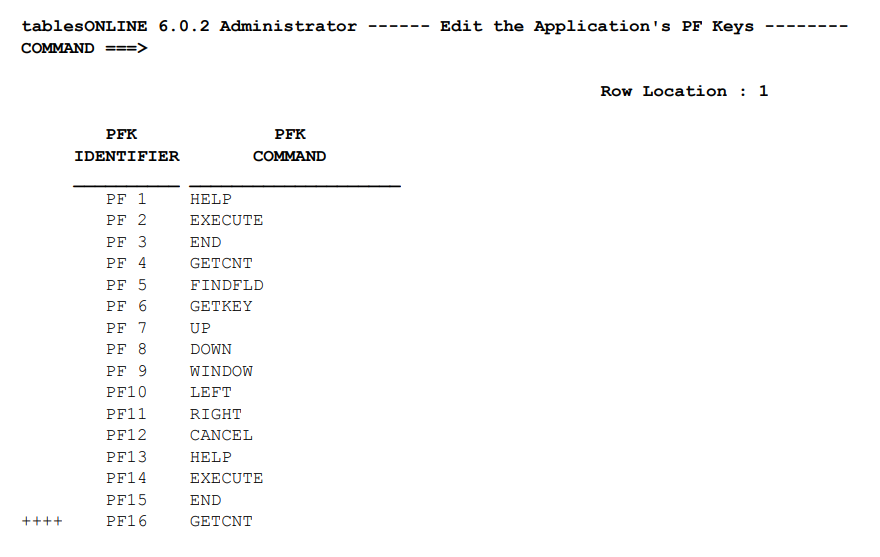 If you have not already specified a row key, you may select a row from the PF Key table using the U line command. Once you are in the Edit-Row screen you can edit the PFK command information.
This table translates PF keys into commands. PF keys can be set up for any command that can be given from the command line. The keys are defined for the entire application, although depending on the screen you are using and the commands available from that screen, they may not all be active at any given time.
There are 24 PF keys set up for tablesONLINE as distributed defaults. Thirteen of these keys, <PF1>-<PF12> and <PF21>, have been assigned. The commands for PF keys 13 to 24 are the same as those for 1 to 12, except for <PF21> which is set up for the freeze keys command.
You can define PF keys to the maximum number your system supports and reassign the keys the delivered defaults. If you alter the pre-assigned PF keys for tablesONLINE, they will no longer match the product documentation.