Increase Mainframe Performance: More Workloads
Improving performance on your mainframe opens it up to handle even more workloads.
Mainframe Performance Optimization
The mainframe is widely regarded as the best platform on the planet for running large-scale transaction processing because that is what it was designed for. But workloads are increasing year-by-year, and the mainframe needs to keep pace. Hardware upgrades are expensive and can only get you so far.
Optimizing your applications will not only make your mainframe more efficient, but it will also allow you to process more with what you currently have. You will be able to realize significant performance improvements without having to invest in an upgrade or a change in infrastructure.
Increased workloads are impacting your mainframe's performance
Today most CIOs, CTOs and IT managers are aware of the impact of digital transformation (DX) on their respective businesses and IT organizations. Disruptive technologies like mobile, big data, business analytics, cloud (computing and storage), digital payment, and more recently the algorithmic economy and the Internet of Things (IoT), are making their impacts felt. Meanwhile, increases in expected business workloads are also making their impacts felt through increased online transactions, web requests, mobile requests, batch jobs, ad hoc queries, data warehousing analysis, utility jobs, Db2 commands, etc.
In many cases the impact that is being felt is a perceived decrease in system performance—slower running applications, less responsive databases and a general erosion of computing response times, as systems cope with the enormous increases in workload demands being piled upon them.
DataKinetics Z Performance and Optimization Solutions can turn this around for you.
The solution is to solve the performance problem, not to solve the platform.
Mainframe performance and optimization solutions
High-Performance In-Memory Technology
In-memory technology augments your DBMS and its buffering facilities. The reference data that is used most often by your applications—a very small amount of data—is copied from the DBMS into high-performance in-memory tables, where it is accessed using a simple and tight API. You may think that buffering is enough, but you can obtain a far higher performance benefit by augmenting the DBMS with high-performance in-memory technology. And the key to that is the difference in code path between this technology and your database buffers.
IT organizations collect tremendous amounts of data about their own computing resources every day – both mainframe, midrange servers locally, or in third-party datacenters. So much data is collected, that you could call it their own "IT Big Data." And with the right toolsets, this IT data can be used to reduce the cost of batch running on your mainframe, and can help identify low-priority batch candidates to offload for running on other platforms.
IT business intelligence identifies lower-priority batch workloads that are potential candidates for reprioritization, replatforming or even elimination. This can directly contribute to improved performance, especially during peak and mission critical workloads
Want to Learn More?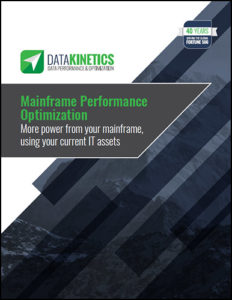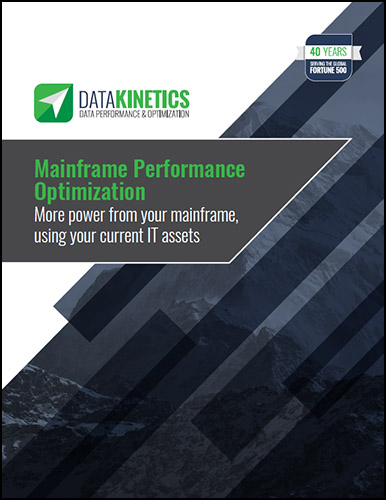 Mainframe processing improvements
DataKinetics Z Performance and Optimization solutions are low-risk and budget-friendly; independently, each one provides good performance improvement, but combined together, they provide very significant improvements. They can help you to dramatically improve mainframe performance using the systems, databases and applications that you have in place now, without having to upgrade, make database changes or application logic changes. If you need to run more workloads on an already struggling system, these solutions are your best bet to make that happen – elegantly and cost-effectively.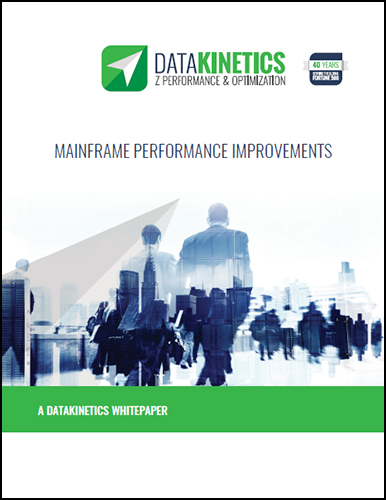 Learn more about the technologies that support mainframe performance optimization.
tableBASE
tableBASE can lower your costs and mainframe TCO, dramatically reduce batch processing time and optimize your MIPS usage, offering performance benefits and more powerful and efficient applications.
IT Business Intelligence
IT Business Intelligence collects capacity and performance data from the IT infrastructure and combines these with business information such as costs, which application and organizational unit is using the resources, and for what activities.